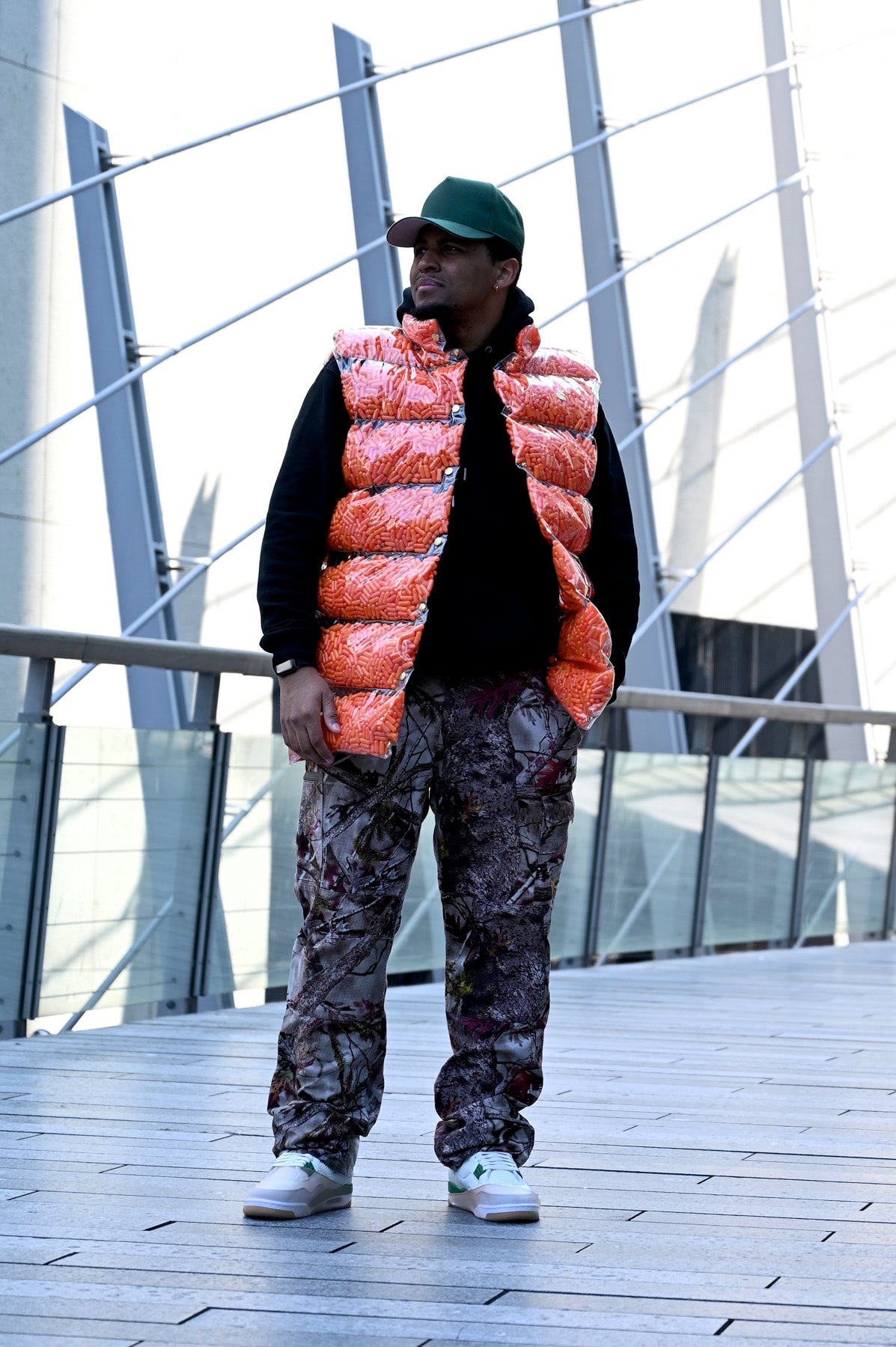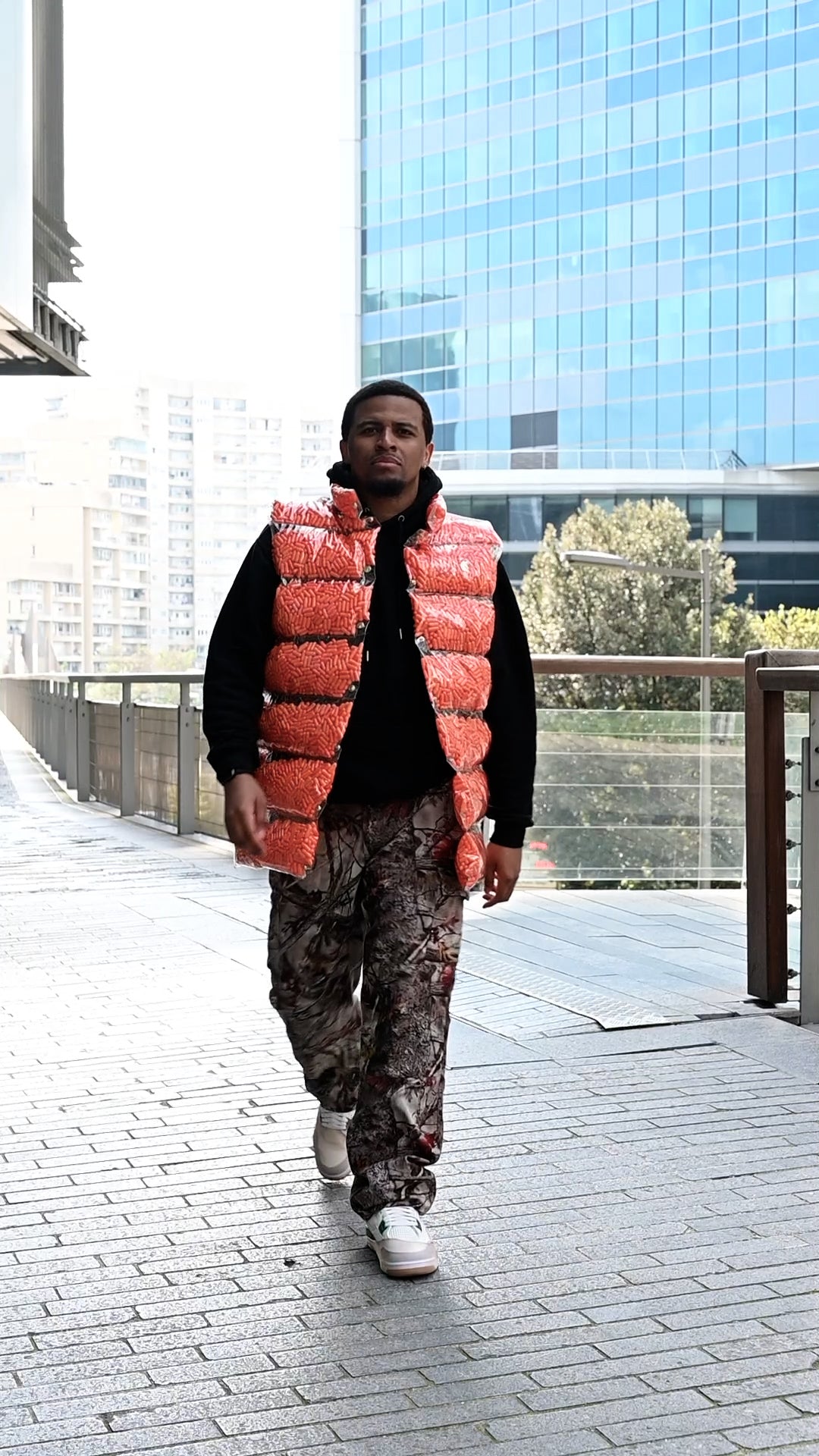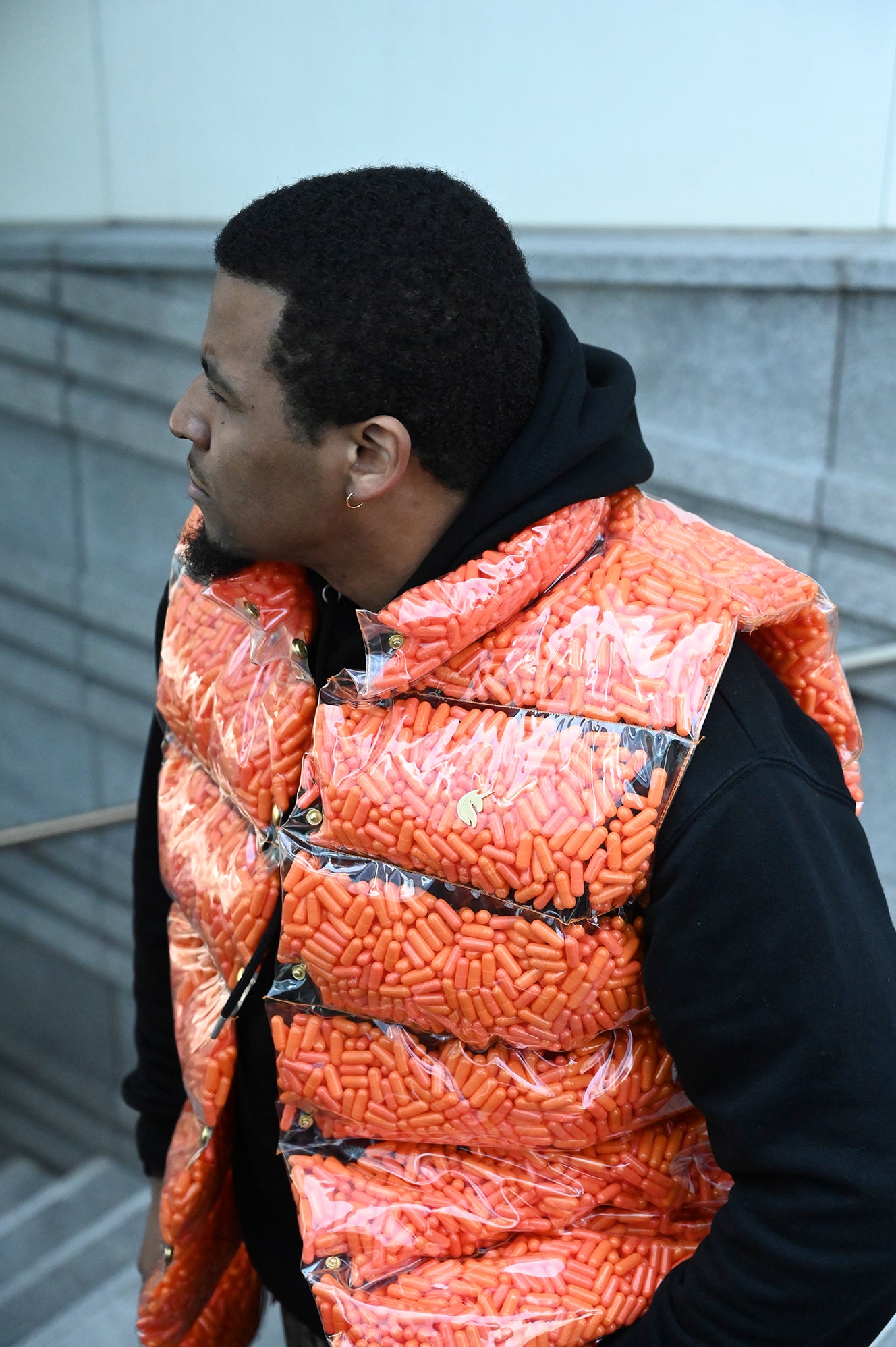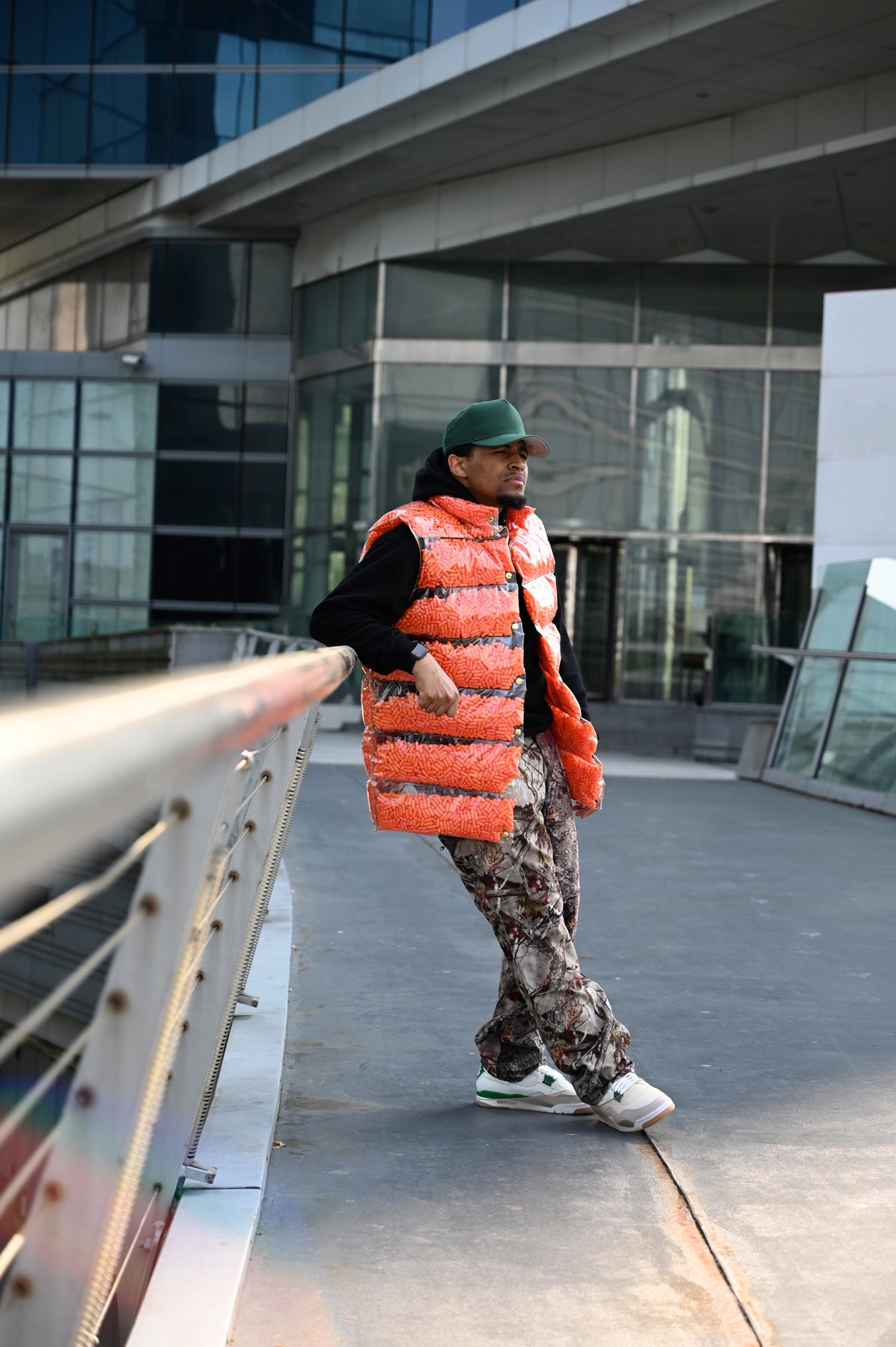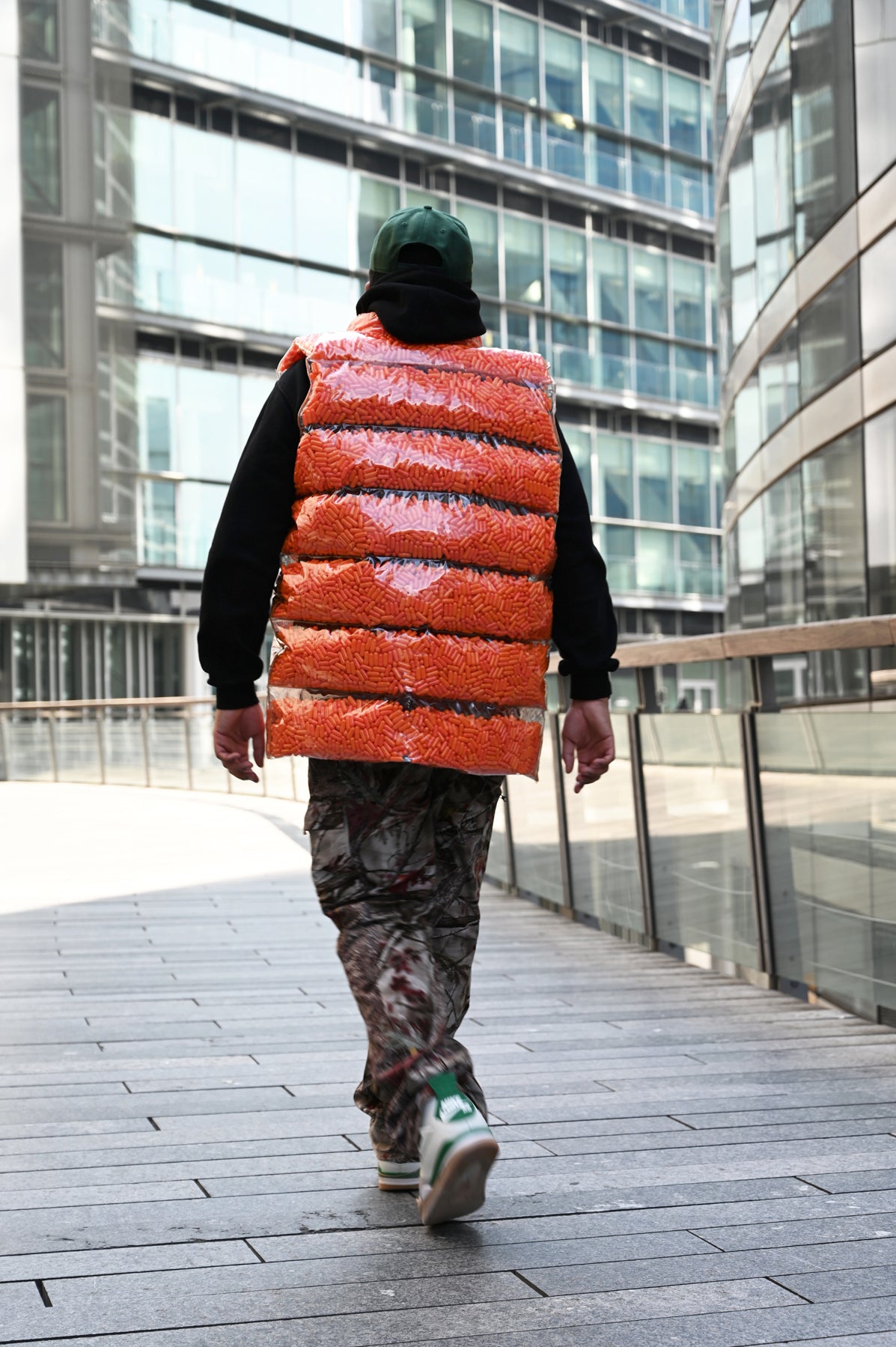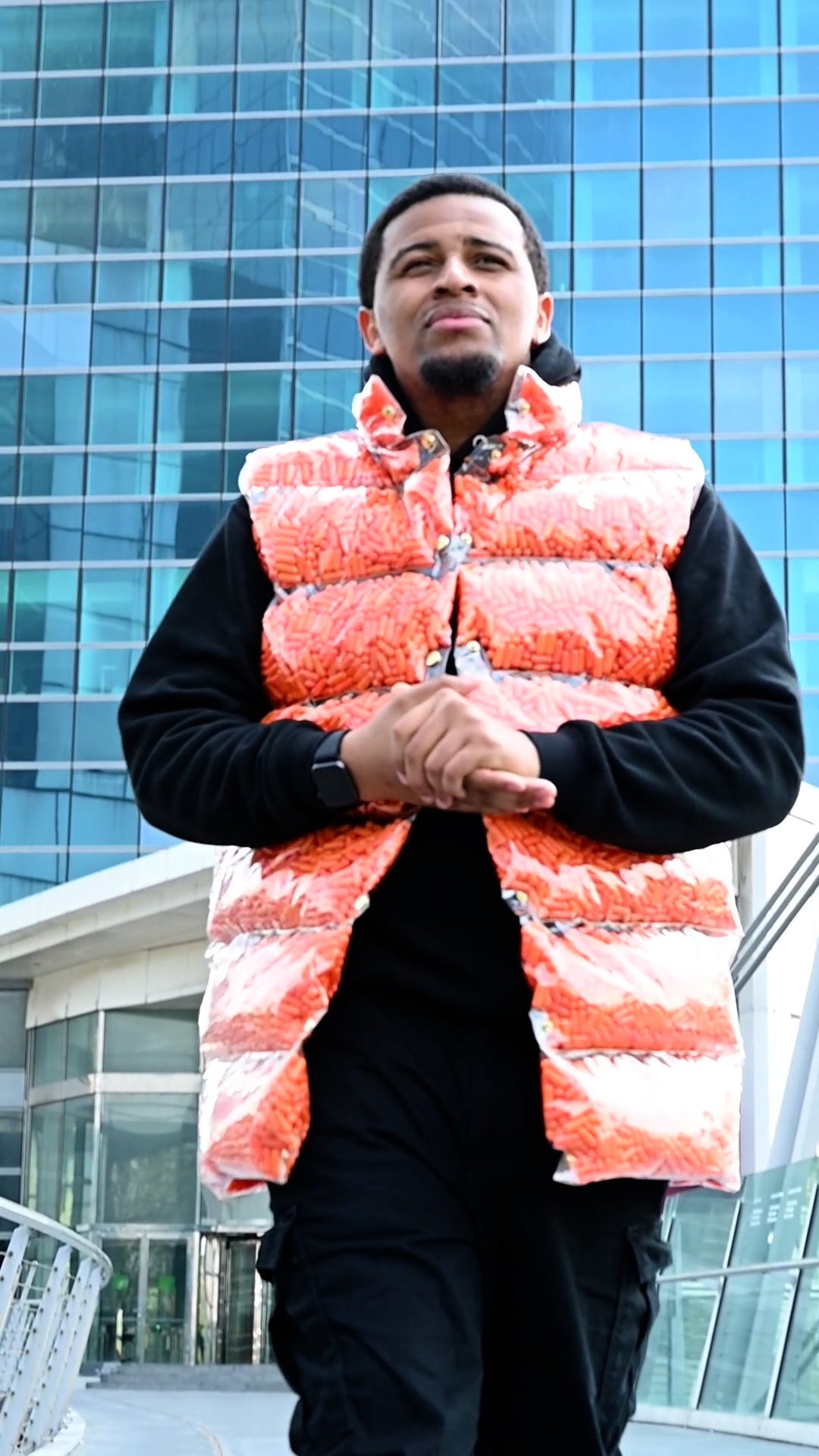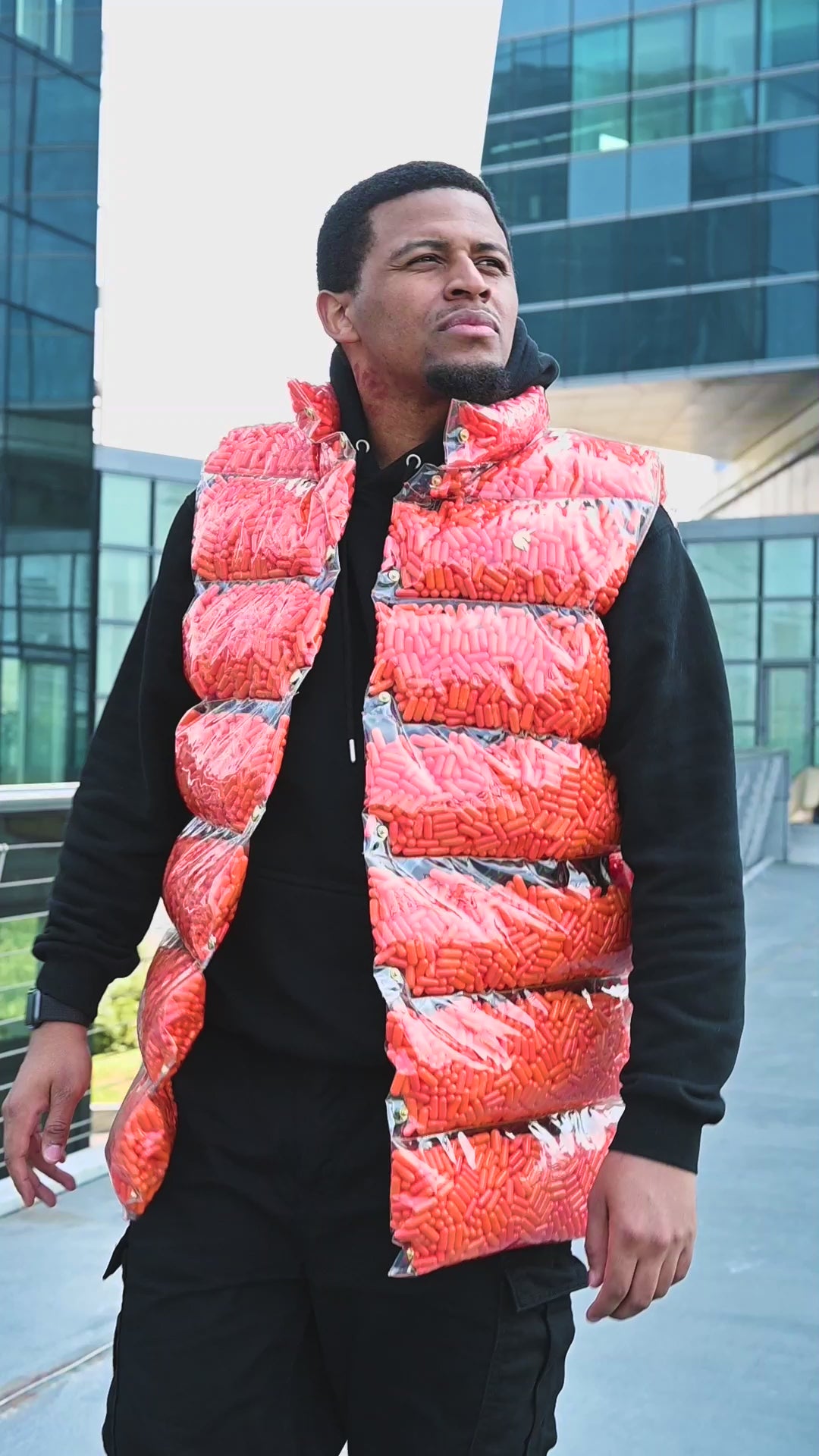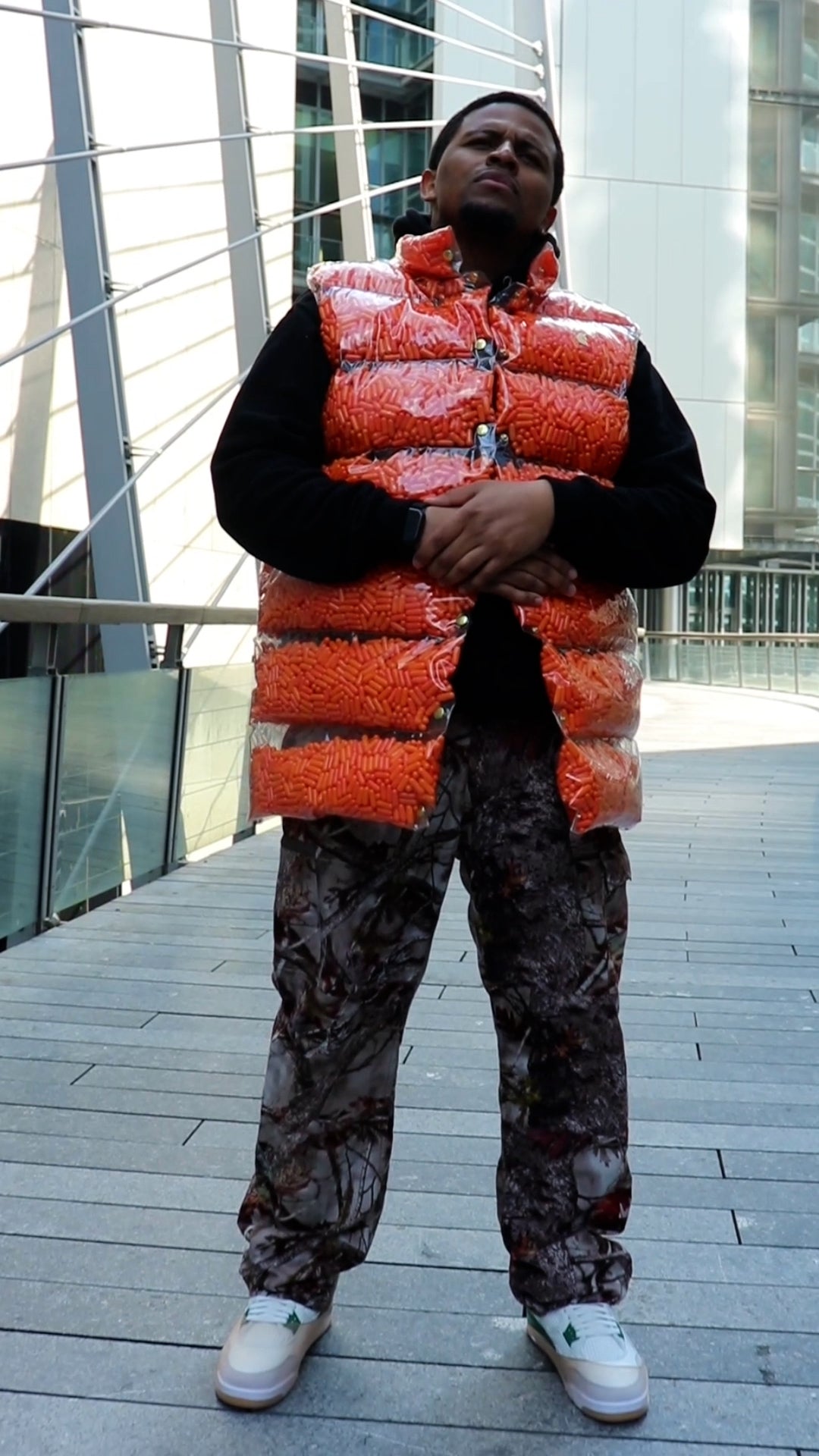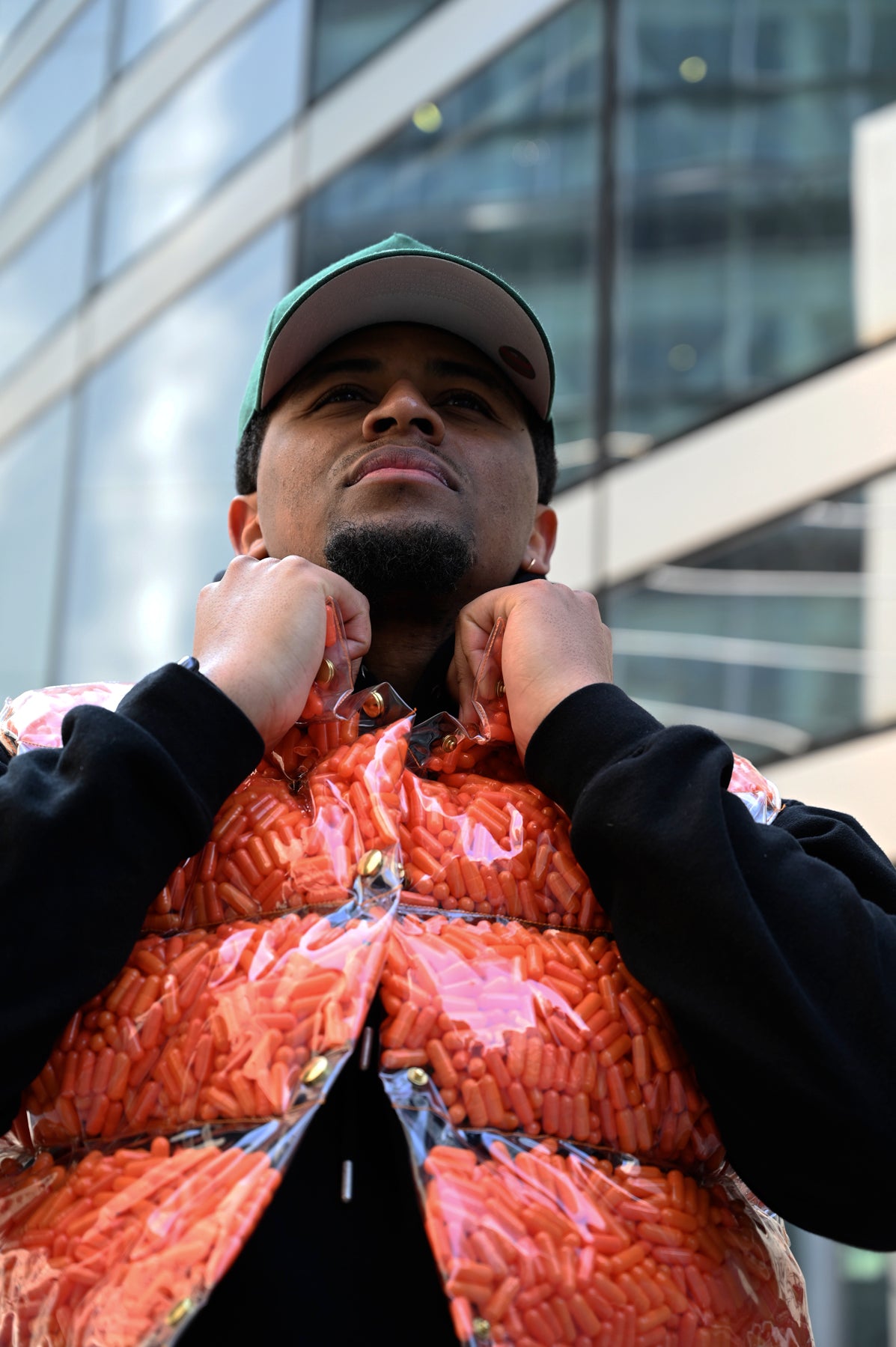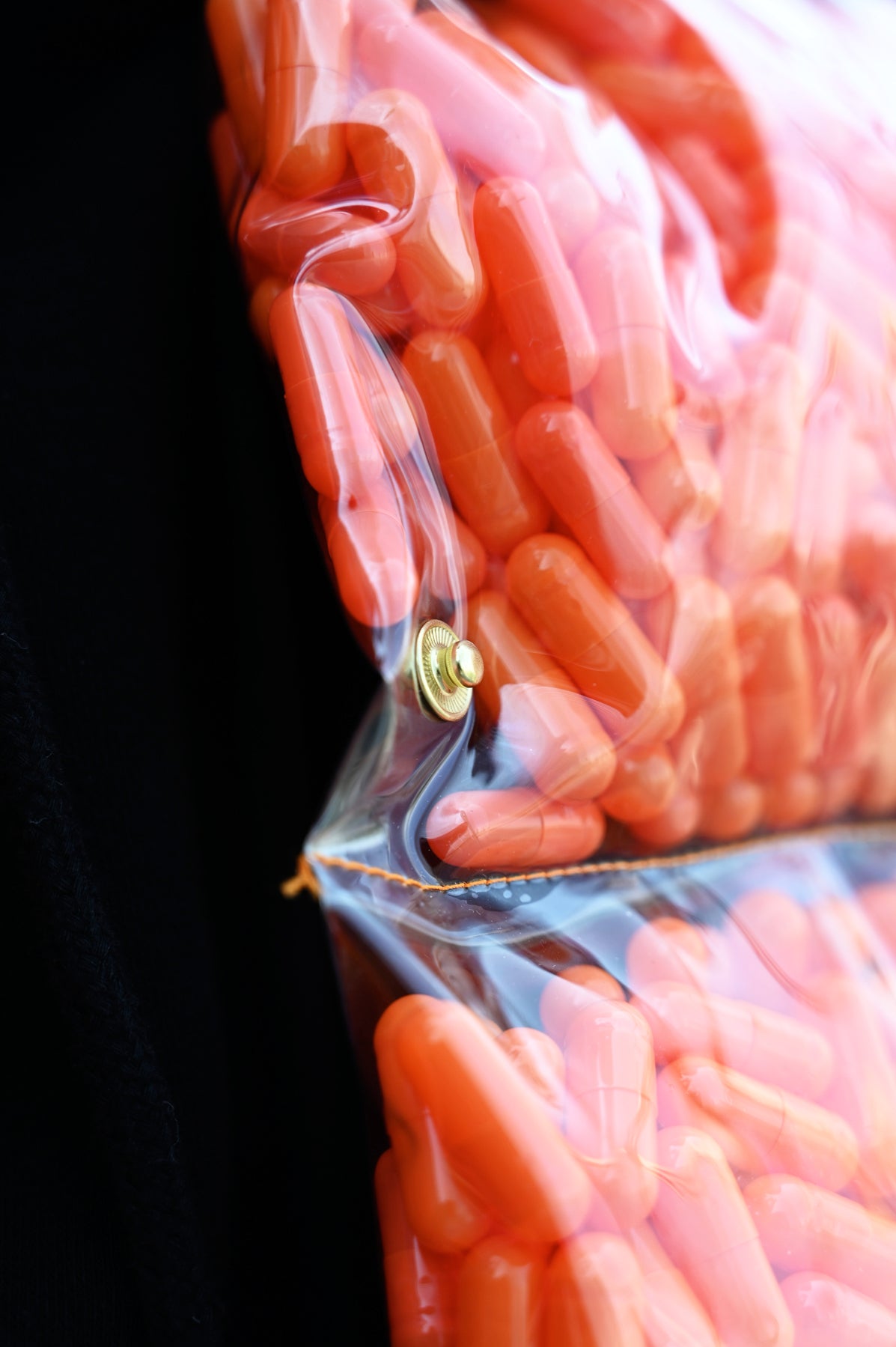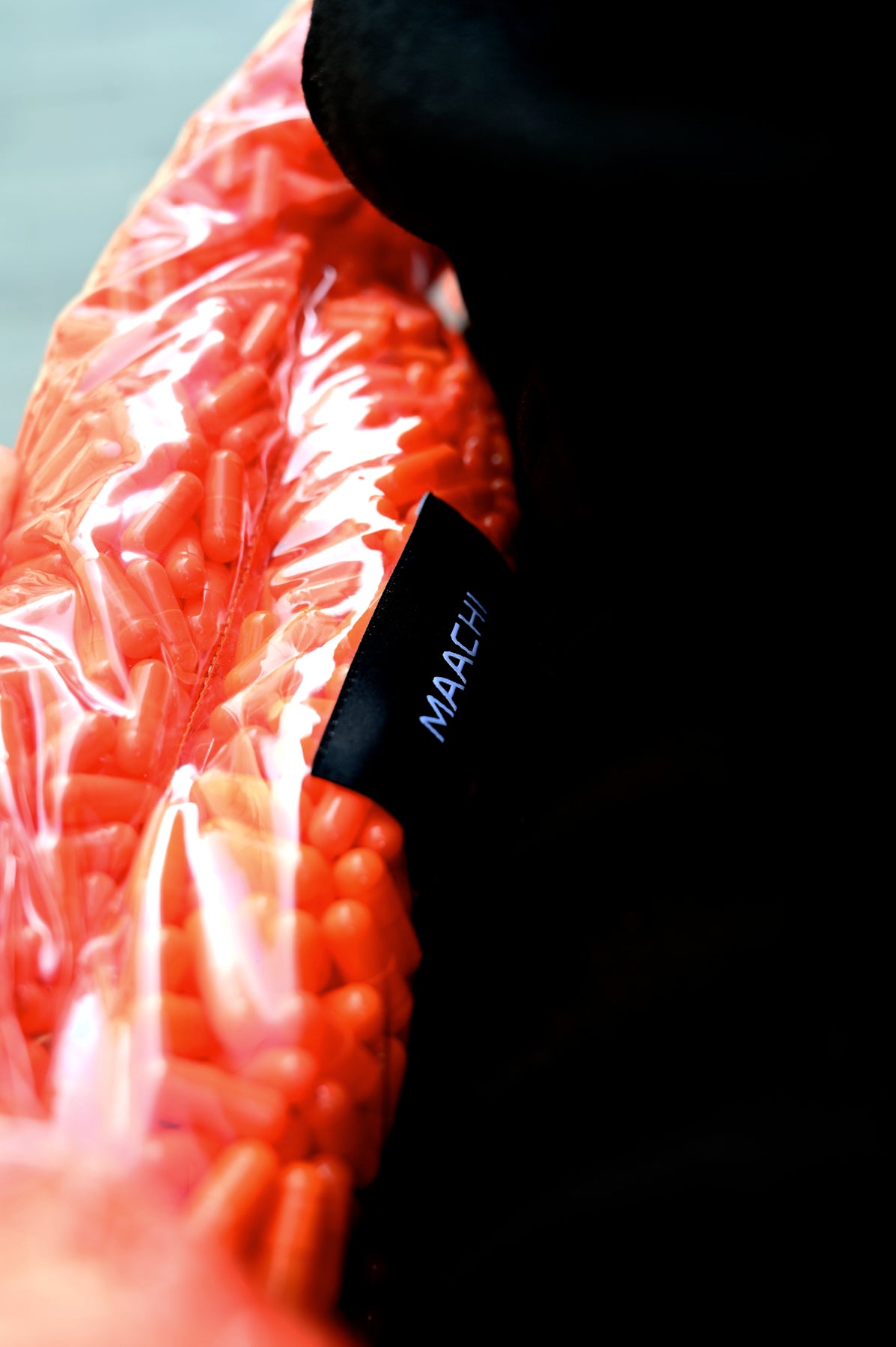 #ORANGE_PILLS_v1.0.0
Sale price
€26.200,00
Regular price
(/)
---
Inspired by the "orange-pill" concept, this sleeveless down jacket pushes the boundaries of fashion with its captivating aesthetic.
"Orange-pilled" is a philosophy popularized by the Bitcoin community that aims to educate and awaken awareness about the major shortcomings and injustices of the contemporary financial system, highlighting the role of Bitcoin in "fixing" this situation (Bitcoin Fixes This).
The crystalline fabric that envelops this piece is both fascinating and revealing. Each of the 21,000 orange pills has been meticulously hand-assembled. It is a testament to the monumental work that reflects the dedication and craftsmanship that went into it.
At the heart of this creation proudly sits the Unicorn adorned with a golden coating. The mattress on which the Unicorn lies is delicately filled with 100 "special" pills (exclusive to the first piece). Each of them contains a word, a dream, a thought, or an expression transmitted by the community. These words embody the essence of human connection, sharing, and illustrate the importance of freedom of expression in our modern world.
ORANGE_PILLS transcends the boundaries of conventional clothing. It defies all expectations, revealing the power of fashion to convey impactful messages and forge meaningful connections.
With its unique blend of modernity and tradition, this down jacket becomes an irresistible force that shakes established foundations.
This piece is intended for bold and enlightened minds, those who realize that the financial world needs radical interpretation and revolutionary change. It is a powerful reminder that most individuals are products of their education, often ignorant of the complex workings of a system that is not taught to them. It encourages questioning norms and exploring new horizons while inspiring others to join the "Bitcoin" movement.
Wear this down jacket with unwavering conviction, as it represents a powerful voice that penetrates consciousness and nurtures deep reflection. Let it shine and spread ideas that challenge the status quo and shape a brighter and distinctly different future.
Certified down jacket on the Bitcoin blockchain via Verisart 🔖
- Crystalline fabric
- 21000 Orange pills
- Golden-colored snaps
- MAACHI House emblem in golden enamel
- 100% recycled PVC fabric - Made in France
- 15mm stainless brass snaps
- Enamel-coated zamak emblem
- Designed, modeled, and crafted in Paris
- Clean only with a damp sponge
This model is made to order. The estimated time required for the making of this piece is between 3 and 6 months.
This model is one size fits all.
Model is 1.80m tall, with an O-shaped build, the down jacket is equivalent to size M, fitted.
On our 1.90m tall model, with an H-shaped build, the down jacket is equivalent to size L.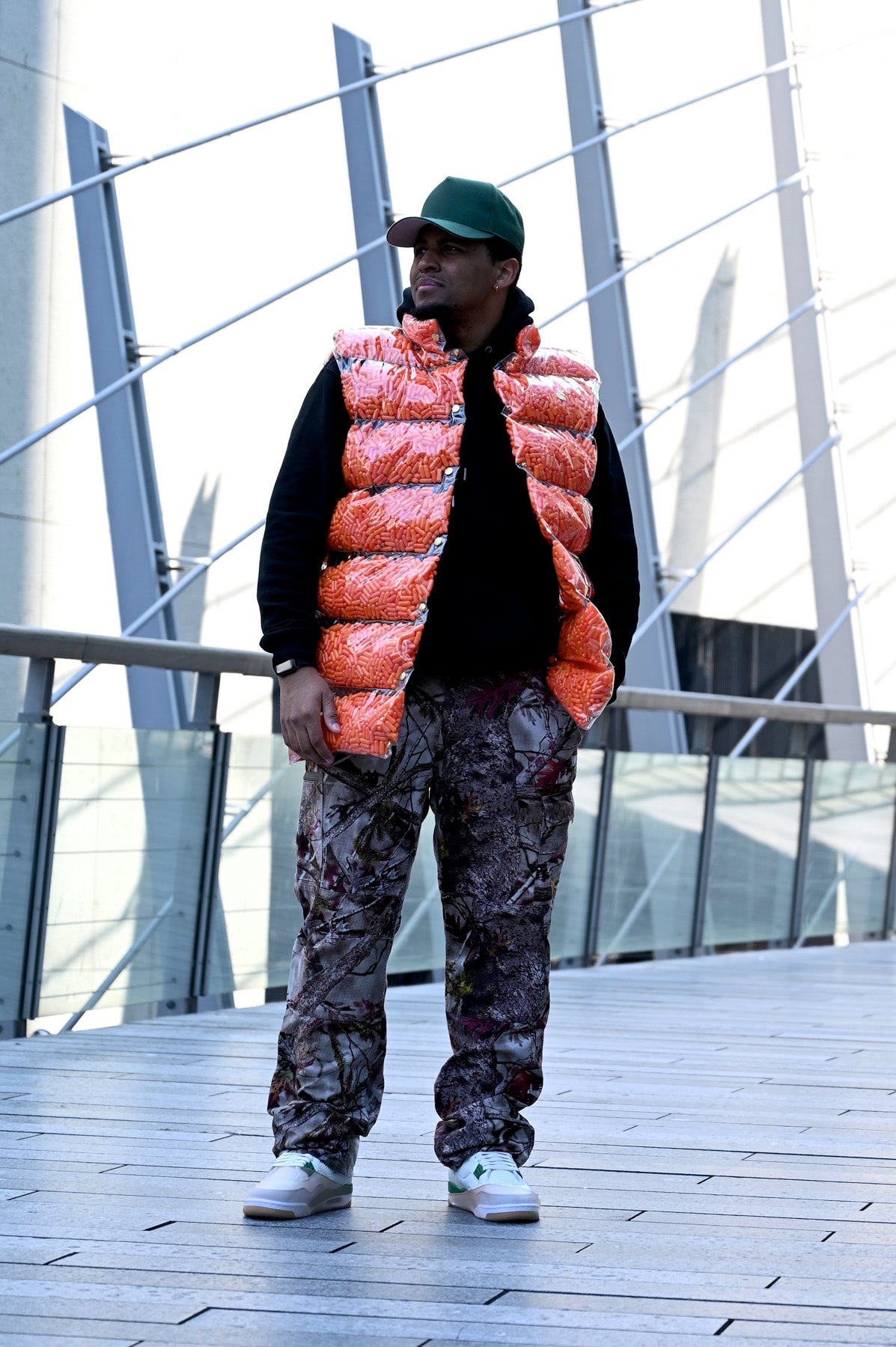 #ORANGE_PILLS_v1.0.0
Sale price
€26.200,00
Regular price
Choose options